The Baroque Horse Store is located in California, USA. and Establised in the year 2000.
(SCROLL DOWN FOR STORE PHOTOS)

Hello and welcome to the Baroque Horse Store, BHS is a solo owned and operated business, by me Melissa Fischbach. I was born in 1970 and raised in in the wilds of northern California (where I still live today), since as far back as I can remember I have been an avid horse lover, talking about them, drawing them. I fact if you asked me what I was going to be when I grew up I would always answer "Horse Trainer and Artist" and I have never veered from that statement throughout my life.
( photo of me on friesian 'Deoro')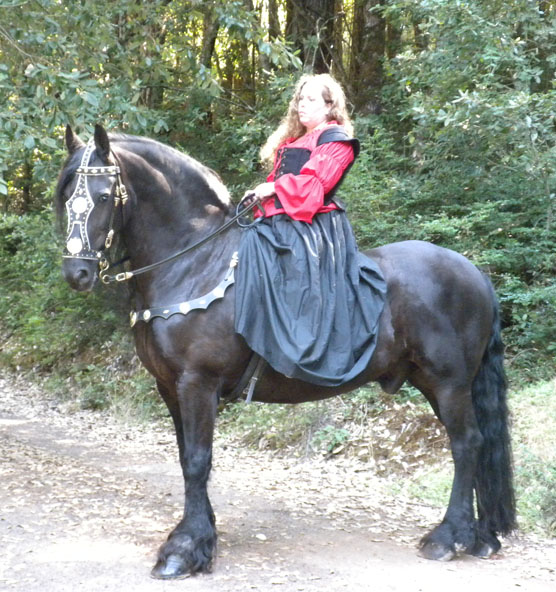 I came from a family of Musicians and Artists, I had a very diverse upbringing, traveling to renaissance fairs, folk festivals and living with small Musical communities of people with many different ethnic backgrounds. I was taught to ride at about the same time I learned to walk and by age 4, I was riding alone. Whenever one of our musician friends went traveling, I would ask them to bring me back horse tack from whatever countries they were visiting. So from a young age I had a small collection of ethnic traditional pieces.
Skipping way ahead In 1991, I bought my first Friesian and became a dedicated student of what is commonly referred to as Classical dressage, or Traditional dressage. I started riding with a Master Instructor from Europe, and still do to this day. I now have many years of horse training under my belt with the baroque horse, Friesians, Andalusians, Lipizzans, etc.
The more I worked with the Baroque Horse the more I saw a glitch in our tack selections here in the North America, unavailable to us were pieces that were used traditionally (some of which is no longer used in these modern times). As I rode in my own unique tack I found that the passion for traditional pieces and costume tack was not mine alone. People started asking me to procure bridles etc. for them as well. This small enterprise eventually bloomed into the store you see today. With the motto "DARE TO BE DIFFERENT"!
The BHS is still run on a very small scale (its all out of pocket, meaning I have to sell one piece to buy two more.) I am everyone, the webmaster, the buyer, the seller the shipper, there are no other employees. its one of my passions and I am always happy to help my customers in anyway I can.
CONTACT
Click Here to e-mail: bhs@mcn.org Or you can call me direct, this is my HOME number PLEASE ONLY CALL between 10 am-6pm PST, Pacific Standared Time ( approx 3 hours EARILER then the east coast) 707-937-2133, please pay attention to the time zone and refrain from waking up the household at 6am.! :-) Sincerly, Melissa Fischbach

STORE PHOTO GALLERY