'H02 HAARLEM'- Breathable Equestrian Raincoats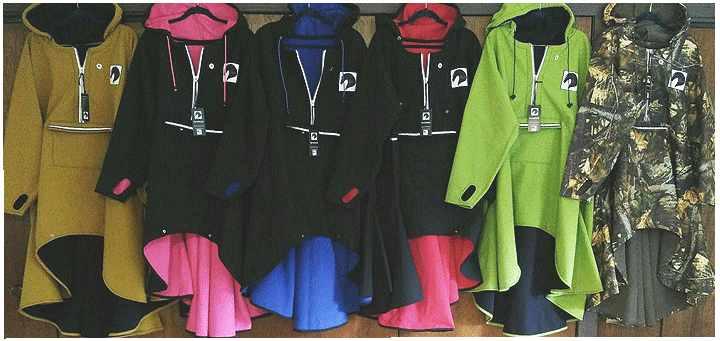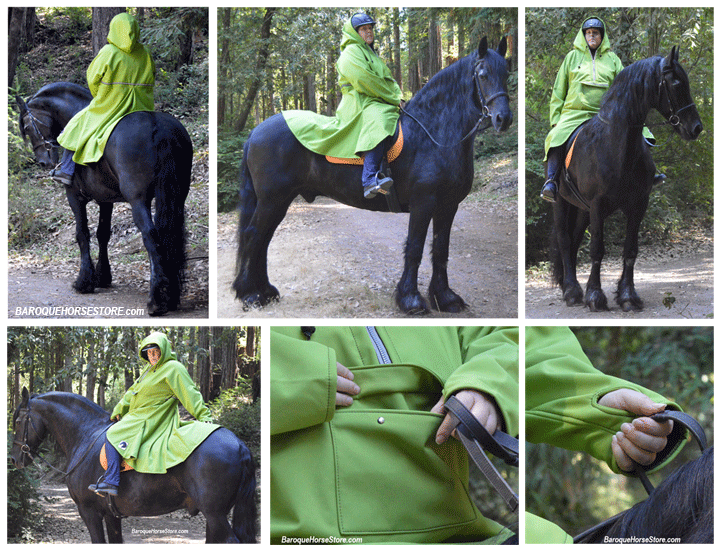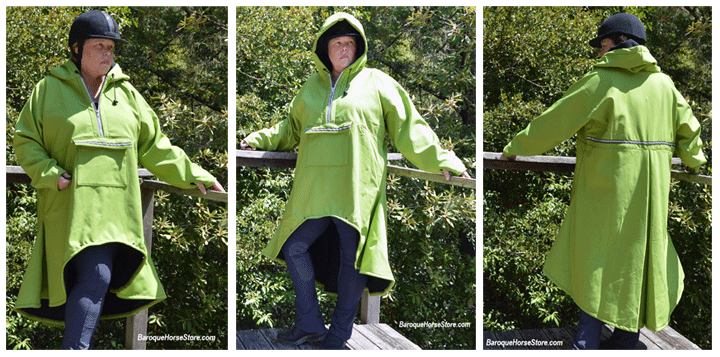 BHS Retail Exclusive! These coats are individually handmade in the USA with great care to detail by their designer. The H02 Haarlem coat is made with the highest quality materials, with functionality and comfort in mind! Elegant enough to wear into town, durable enough for hard riding and ranch work. The H02 Haarlem is constructed of the latest high tech fabric.
FEATURES: of the H02 Haarlem coat: 3 layers of soft flexible fabric ( as used for high end sking and snowboarding softshell coats) two of breathable waterproof material with an inner layer of fleece, the fabric is anti-static, flame retardant, and heat insulation. The coats are shrink resistant, tear-resistant, waterproof, windproof, and breathable. Coats are not bulky and feature reflective striping edge detail on front and back for visibility, a large front pocket for wallet cell phone, etc. and thumb loops to keep your hand covered. The coat has small rivet loops along the hem where it can be attached via ties, to fully cover any saddle
CARE: The coat can be washed in a washing machine on a gentle cycle with cold water. Hang the coat to dry. Alternatively, the coat can be tumble dried in the drier, for approximately 20 minutes on a low temperature. This will reactivate the durable waterproof feature of the fabric.
SIZES: Medium ( fits most) or Large ( fits a L to 2X women and a L to XL men) Coats are unisex and are meant to be oversize like a poncho, so other garments easily fit underneath.

COLORS: Black Coat with Red, Blue or Fuchsia Lining. Chartreuse Green or Saffron Yellow with Black lining. Or Foliage Camo. with olive lining. YOUR color choice can be left in the "notes to merchant section". Or you can send me an e-mail I do have some coats on hand, if your size and color choice is not ready-made please allow 30-60 days for completion and delivery. Size SMALL is also an option, made to order.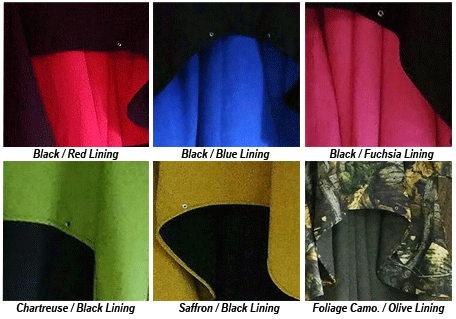 H02 Haarlem-coat Size Medium $295


H02 Haarlem-coat Size Large $295



What I have in stock ready to ship: MEDIUM: Saffron with black lining, Foliage Camo with Olive lining.
LARGE: Chartreuse with black lining, and Saffron with black lining. ( due to the pandemic Fabric my not be able to be restocked, so custom orders may not be able to be accomidated at this time) please have a second choice color.